THE COALITION
TO PROTECT LAKE COWAL
The Coalition is working to further the protection of Lake Cowal and surrounds by halting the proposed Cowal Gold Project'.
The Coalition includes over 40 groups worldwide as Campaign Supporters plus 21 member groups in Australia including Friends of the Earth Australia, Nature Conservation Council, Birds Australia, Central West Environment Council, Mineral Policy Institute and The NSW Greens. Campaign Supporters include The World Conservation Union (IUCN) Sri Lanka, World Wildlife Fund Bolivia and a number of non-profit groups worldwide from east and west Europe, Soviet Union, Asia and South America.
FOR MORE INFORMATION,
contact ruthr@ozemail.com.au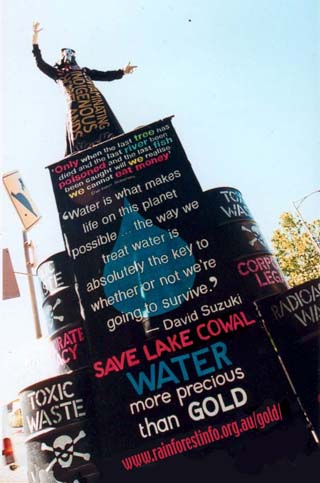 MEMBERS

Albury Wodonga Environment Centre
Big Scrub (Lismore)
Birds Australia
Central West Branch TWS (Orange)
Central West Environment Council
Clarence Environment Centre (Grafton)
The Coalition to End Open Cut Gold Mining - Victoria
Friends of the Earth – Australia
The Greens NSW (Sydney)
Humane Society International – Australia
Mineral Policy Institute (Sydney)
Mission Beach Environmental Management Group Inc. (Queensland)
Mooka Traditional Owners Council Inc.
Mountains Environmentalists Collective (Blackheath, NSW)
Mudgee District Environment Group (Mudgee, NSW)
Nature Conservation Council (Sydney)
Nimbin Environment Centre (Nimbin)
Peacebus.com
Rainforest Information (Centre Lismore)
SOS Bergama Collective, (Sydney, NSW)
Timbarra Café/ Timbarra Action Group
Western Region Environment Centre (Werribee, Melbourne, Victoria)

CAMPAIGN SUPPORTERS

Midwest Treaty Network (Wisconsin)
Coecoceiba-Friends of the Earth Costa Rica - Isaac Rojas
Project Underground – (California)
Global Response - (Colorado)
The Committee for Struggle against Gold Mining in Halkidiki, Greece
WOLF Forest Protection Movement (Slovakia)
Green Perspective Foundation (Slovakia)
Groundwork – Pietermaritzburg, South Africa
JATAM -Indonesian Mining Advocacy Network
Friends of the Earth International's Campaign on the Environmental and
Social Impacts of Mining - Gabriel Rivas-Ducca
IUCN Sri Lanka
Institute for the Protection of Nature of Serbia
PROVITA (Caracas, Venezuela)
Earth Justice Movement (South Africa)
Cloud Forest Institute, California/Instituto del Bosque Nublado, Ecuador
Australian Special Interest Tours – (Sydney, NSW)
Ecology North – (Yellowknife, Northern Territories, Canada)
Ukrainian Birdwatching Centre (Ukraine)
University of the West Indies Biological Society, Trinidad & Tobago
The Azov-Black Sea Ornithological Station
Western-Ukrainian Ornithological Station
Western Branch of the Ukrainian Ornithological Society
The Benedykt Dybowsky Zoological Museum, Ivan Franko National University of Lviv
WWF Bolivia
SAPAD SENEGAL, Fagaru Centre
Native Forest Network Southern Hemisphere (Tasmania)
Environment Centre of the Northern Territory (Australia)
Capricorn Conservation Council (Queensland, Australia)
Climate Change Action Group (Queensland, Australia)
Rainforest Concern (United Kingdom/Ecuador)
Second Edition – Books and Clothing (Pambula, NSW, Australia)
Sustainable Ecological Alternatives for Living (Kinmount, ON, Canada)
Sierra Club of Canada
Workshop for All Beings – Poland
Gesellschaft fuer bedrohte Voelker / Society for Threatened Peoples – Germany
E. F Schumacher Society – Germany
Commonground – Victoria, Australia
Altai regional Public Fund For the 21st Century
Ecology Action Sydney, Australia
ECOS RIOPLATENSES A.C., (Argentina)
Mirrilingki Spirituality Centre, (Warmun, West Australia)
Mines,Minerals & PEOPLE (India)
Earthlights IRC Network (New Zealand)
Friends of Kapululangu Women's Law & Culture Centre (Northcote, VI, Australia)
NGO Environmental Watch Group, PNG
Friends of Oolong (NSW)
Great Basin Mine Watch (Reno NV)
Wyong Terrestrial Orchid Research(NSW)
Whale Call Inc. (int'l based NSW)