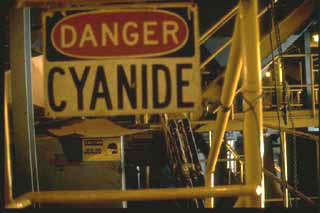 ENVIRONMENTAL RISKS
Cyanide is lethal. One teaspoon of a 2% solution can kill an adult human. Cyanide is even more toxic to aquatic biota than to birds. Contrary to gold mining industry claims, cyanide leaks and spills are commonplace in the industry. These mining accidents have poisoned entire river systems and have devastating impact on bird life. Cyanide does not necessarily breakdown rapidly into safe chemicals. Many potential breakdown products are about as lethal as cyanide itself.
A spill of wastewater containing cyanide, arsenic and potentially other toxins could severely damage the entire Cowal wetland and related waterways including the Murray River System already over-stressed by salt, nitrogen, acidity and agricultural chemicals. As well as the risk of killing fish, bird-life and farm stock, toxins could enter the food chain and jeopardise fishing industries adn drinking water. (See CYANIDE ACCIDENTS).
Heavy Metals such as zinc cadmium and lead could enter soil and waterways. Arsenic levels are high in this ore body.

Dr Barry Noller, Deputy Director of the National Research Center for Environmental Toxicology, in "Cowal Gold Project: Comments on the Environmental Impact Statement" writes, "longer term generation of seepage under alkaline pH and more alkaline conditions may give solubilization of arsenic. Note that arsenic is soluble under alkaline conditions and that the predominant form is arsenite. Arsenite is extremely toxic to biota and is a carcinogen. Evidence the effect of population drinking groundwater in Bangladesh, through contraction of skin cancer."
Noller also notes, "Data for trace elements in mine waste rock is not given, although it is indicated that arsenic levels are high. This data should be made public. Waste rock emplacement is close to Lake Cowal and seepage may reach Lake Cowal." Noller concludes that, "The role and impact of heavy metals in Lake Cowal which may be associated with natural mineralisation is not understood. As the waste rock has the potential to transfer heavy metals to the lake via seepage, these processed need to be understoond."


Pit wall collapse at Barrick's Cowal Gold Project in Lake Cowal
Wiradjuri Traditional Owner, Neville 'Chappy' Williams, has exposed a large pit wall collapse at Barrick's Cowal Gold Project in Lake Cowal, 45 km north-west of West Wyalong, central western NSW.

After a flight with Friends of the Earth Australia yesterday Williams stated, " It is hard to bear the pain of the destruction of our sacred site. Barrick has ignored our demands to protect cultural objects and the ecological significance of the lake." Lake Cowal is an ephemeral lake lying in the Lachlan River plain within the Murray-Darling Basin.
"We are deeply concerned about the mine's impact on local Aboriginal and farming communities particularly the mines massive consumption of water", says Natalie Lowrey, National Liaison Officer, Friends of the Earth Australia. "The pit wall collapse also creates a major concern for workers at the mine site."