In December 2015, Rajeev  wrote us that the campaign to establish land-rights for the Katkari and other Adivasis was finally bearing fruit and "will help resolve the insecure village land issue in at least 600 – 700 Katkari villages".
The next steps are tree plantings to improve the fertility and productivity of their land. However, suitable native tree seedlings are not available and they are  establishing a nursery "to ensure multiplication of diverse native plant species (fruits, uncultivated foods, vegetables, medicinal plants, fibre plants, sacred plants, flowering plants, natural dyes, etc)"
RIC has set the ball rolling with a grant of $4000 which we have sent them so that work can begin,  and we hope that the remaining $8000 needed will be crowd sourced through PlanetFunder.
Setting up a nursery of native plant species in Raigad District of Maharashtra
Submitted to:
Rainforest Information Centre
Australia
Implementing agency
SOBTI
c/o Belose House, Deulwada
At & Post Pali, Taluka Sudhagad
District Raigad, Maharashtra Pin 410205
India
Date
March, 2016
Project Title
Setting up a nursery of native plant species in Raigad District of Maharashtra.
Background
Raigad District is part of the Konkan Region of Maharashtra, along with Thane, Ratnagiri and Sindhudurg Districts. The region consists of a narrow strip of land, bounded by a coastline of around 720 kilometres on its west, and the 'Western Ghats' mountain ranges on its east. The region, which has a fragile ecology comprising of different eco-systems, is under stress due to development projects, industries, mining, tourism and illegal tree felling.
<![if !vml]>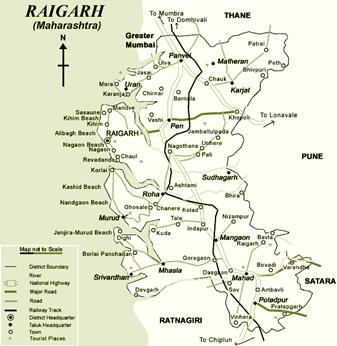 <![endif]>Adivasi<![if !supportFootnotes]>[1]<![endif]> communities constitute over 12% of the population in Raigad District. They have lived in and around forest areas with free access to land, vegetation, water bodies and other natural resources. Livelihoods of Adivasi are based on forest resources (harvesting of medicinal herbs, fruits, tubers, grass, bamboo, honey, uncultivated vegetables, etc. along with hunting, fishing, bird trapping) and cultivation of crops (paddy, millets, pulses, vegetables, etc). Trees and forests are thus a vital source of livelihood for Adivasi communities.
Raigad District happens to be in the middle of the fastest growing urban centres in Maharashtra – Mumbai, Pune, Thane, Satara and Nasik. There is hence pressure from the urban lobby to usurp land and other natural resources in the Adivasi area. Industries and businesses are buying land in the region in their quest for growth and expansion. Rich individuals from cities are taking over agricultural land to build farm houses, holiday resorts, health centres, second homes and recreation clubs. Several development projects such as dams, railway lines, roads, etc. are also making heavy demands on agricultural land for catering to the needs of nearby urban centres and industries. In the process Adivasi families are being enticed, bribed, cajoled, cheated, threatened and forced to part with their land.
Government policies pertaining to land are quite complex and legislation meant to protect the land of Adivasi people works out as a covert medium for sale of land to non-Adivasi people at 1/10th to 1/20th of the market price. Government policies are thus directly and indirectly aiding land alienation in Adivasi areas.
Work on land rights
Concerned about the alienation of Adivasi land, SOBTI (along with several other civil society groups in Raigad District) has been trying to motivate and support Adivasi communities to defend their land rights. SOBTI has organised people in villages and developed leadership and legal capacities to sort out various land right issues. The land issues are related to forest land as well as revenue land. The Scheduled Tribes and Other Traditional Forest Dwellers (Recognition of Forest Rights) Act, 2006 (or Forest Rights Act - FRA) provides the legal framework for Adivasi people to claim Individual Rights, Community Rights and Habitat Rights over forest land. However, in the case of revenue land, people have to make use of a number of different legal provisions to stake claim to land. In both these cases the legal process is lengthy, cumbersome, expensive and contentious, often leading to conflicts between Adivasi people and landowners or Government officials.
Nonetheless, SOBTI has been able to mobilise Adivasi communities for a sustained campaign on land rights based on proper legal procedures over a period of 20-25 years. The hard work is finally paying off as a large number of Adivasi families are getting ownership of land.
Nature of the problem
Having come thus far, the challenge now is to convince Adivasi people to make use of the land as a source of livelihood instead selling it to outsiders. SOBTI is hence motivating Adivasi families to grow various trees and mixed crops on land. SOBTI has set up community seed banks to improve availability of seeds of traditional crop varieties to Adivasi farmers and over the past 4-5 years a large number of Adivasi families have started growing diverse mixed crops on their agricultural land. However, the efforts to promote growing of trees on sloping lands have not been so successful since SOBTI has not able to get saplings of different native tree species from the Government and private nurseries in the region. The Forest Department nurseries grow mostly commercial and exotic species like Rain tree (Albizia saman), Australian Acacia (Acacia auriculiformis), Australian Wattle (Acacia pycnantha), Gulmohor (Delonix regia), Subabul (Leucaena leucocephala), Copper Pod (Peltophorum pterocarpum), Spathodea (Spathodea campanulata), Jacaranda (Jacaranda mimosifolia), Ashok (Polyalthea longifolia), Nilgiri (Eucalyptus globulus), Suru (Casurina equisetifolia), etc. along with some native trees. The Horticulture Department nurseries raise grafts of selected fruit trees and ornamental plants. Private nurseries focus on avenue trees, flowering plants and ornamentals. Saplings of native forest trees are not available in any of the existing nurseries in the region.
Native plants are a source of diverse uncultivated vegetables, fruits, flowers, medicines, NTFPs, dyes, fibre, timber, fodder, firewood, etc. and hence play an extremely important role in the subsistence economy of Adivasi families. For instance, a number of landless Adivasi families are known to make a living simply by harvesting and selling leaves of trees such as Palash (Butea monosperma), Kuda (Holarrhena antidysenterica), Karmel (Dillenia indica), Bael (Aegle marmelos), Amba (Mangifera indica), Gunj (Abrus precatorius) and Apta (Bauhinia racemosa) throughout the year. However, the availability of many of these forest products has declined considerably due to deforestation and hence Adivasi people are unable to harvest viable quantities despite a growing demand for natural products. Compared to native plant species, exotic plant species promoted by the Forest Department are not of much use in supporting the livelihoods of Adivasi people.
A need is thus felt to set up a Nursery and Seed Bank for improving availability of seeds and saplings of native tree species to Adivasi families in Raigad District. Apart from contributing directly to improved livelihoods, it will also strengthen the on-going land rights work in the region.
The Proposal
SOBTI plans to set up a nursery of native plant species to improve availability of saplings of diverse species for plantation on the lands of Adivasi families in Karjat, Khalapur and Sudhagad Blocks of Raigad District.
Activities
<![if !supportLists]>1. <![endif]>Flowering and fruiting times of native plant species will be documented to aid in collection of seeds of native trees, climbers, shrubs, herbs, etc.
<![if !supportLists]>2. <![endif]>Seed collection of diverse native species will be undertaken at different times of the year depending on the flowering and fruiting times of individual speices. Support will be provided to landless Adivasi people for seed collection.
<![if !supportLists]>3. <![endif]>Seed banks of forest plant species will be set up in each block for distribution of seeds to Adivasi families.
<![if !supportLists]>4. <![endif]>Seeds of species such as Gunj, Aien, Moha, Jambhul, Kuda, Kharsing, Medhsing, Murudshing, Shatavari, etc. will be scattered in degraded forest areas before the onset of monsoon to aid regeneration of native plants.
<![if !supportLists]>5. <![endif]>Infrastructure for the nursery will be gradually established near Siddeshwar Village in Sudhagad Block. This will serve as the main nursery for raising native trees as well as rare and difficult to propagate plant species. The infrastructure will consist of a well for water; pump and pipeline for watering of saplings; low-cost accommodation; fencing; storage cum work shed; and low-cost nursery sheds for seed beds and saplings, etc.
<![if !supportLists]>6. <![endif]>Work will be initiated for experimentation on seed treatment, seed germination and raising of difficult to propagate plants from cuttings.
<![if !supportLists]>7. <![endif]>Experiments will be initiated to explore use of eco-friendly and biodegradable materials for growing saplings in the place of plastic bags. Efforts will also be made to make productive use of plastic waste (bottles, cups, etc). However, to begin with poly bags will be used for growing saplings.
<![if !supportLists]>8. <![endif]>The task of raising saplings will be handed over to a local women Self Help Group (SHG) instead of appointing own staff to manage the nursery. The women SHG will be paid on a per sapling basis. Members of the SHG will undertake all the work for managing the nursery. About 5,000 to 10,000 saplings of different native plant species will be raised in the nursery in the first year. A tentative list of native plant species to be grown in the nursery is given in Annexure I.
<![if !supportLists]>9. <![endif]>Small "Village Nurseries" will also be set up in the three blocks depending on the requirement of saplings in a particular area.
<![if !supportLists]>10. <![endif]>Another innovative approach would be to promote "Household Nurseries" where individual families will grow and nurture 20-25 saplings of different plant species. SOBTI will provide poly bags and seed packets to the families. Rest of the work for setting up the small nurseries will be done by Adivasi families. About 500 such "Household Nurseries" will be set up in the first year.
<![if !supportLists]>11. <![endif]>Saplings will be grouped into specific packages, e.g. school package, NTFP collectors, leaf bearing plants, uncultivated foods, gum bearing plants, landless families, small farmers, Dalli land, backyard garden, etc.
<![if !supportLists]>12. <![endif]>The saplings will be grown by Adivasi families in and around villages. Adivasi people will take responsibility to protect and nurture the saplings.
<![if !supportLists]>13. <![endif]>SOBTI will make special efforts to involve school students in growing of native trees. Orientation programmes will be organised in schools to create awareness about the importance and relevance of native plants as opposed to commercial plantations with exotic species.
<![if !supportLists]>14. <![endif]>Meetings will be organised in villages to discuss issues related to control of forest fires, grazing by cattle and harvesting of young trees for firewood.
<![if !supportLists]>15. <![endif]>Efforts will be made to periodically meet and discuss various issues concerning forest protection and tree plantation with Forest Department officials at the local as well as the District level.
<![if !supportLists]>16. <![endif]>Efforts will also be made to motivate Forest Department to include more and more native plant species in their nurseries and plantation programmes.
Expected Outcomes
<![if !supportLists]>1. <![endif]>The nursery will play an important role in improving availability of seeds and saplings of diverse native plant species to Adivasi families in Raigad District.
<![if !supportLists]>2. <![endif]>Growing of varied native trees on private land, common land and forest land will contribute to improved livelihoods for Adivasi people, including landless families depending on collection and sale of forest produce for their sustenance.
<![if !supportLists]>3. <![endif]>Growing of trees on private, common and forest land will strengthen the on-going land rights work of SOBTI.
<![if !supportLists]>4. <![endif]>Promotion and plantation of native species will contribute to biodiversity conservation in the region.
<![if !supportLists]>5. <![endif]>Most importantly, a nursery of native plant species will pose a challenge to the Forest Department's policy of relying on exotic species for plantations on forest land. It can form the basis for a dialogue with various actors involved in promoting tree growing in the region.
About the implementing organisation
SOBTI emerged as a NGO out of a deep concern of the founder members to the plight of Katkari Adivasi in Sudhagad Taluka of Raigad District. Members of the Katkari community continue to live in abject poverty and desolation despite concerted efforts by Government agencies. SOBTI was established in 1992 to address issues of concern to the Katkari and other Adivasi communities in Raigad District.
SOBTI strives to promote economic, social, educational and cultural development in Adivasi villages of Sudhagad Taluka. The focus is on empowering the Adivasi community for self-help and self-reliance.
SOBTI has a team of 10 full time staff, 12 volunteers and 7 village level animators engaged in activities related to land rights, livelihoods and revival of Adivasi culture & traditions. SOBTI team has been implementing activities related to land rights and livelihoods in 5 Blocks of Raigad District over the past 3 years.
Legal information about SOBTI is as shown below:
(I.a.) Legal status

Registered Society and Trust (Non Government Organisation)

(I.b.) Year of establishment

1992

(I.c.) Non-profit status

SOBTI is registered as Public Charitable Trust (Bombay Public Trust Act 1950, No. F-1651-Raigad; Dated: 12 March 1993) and as Registered Society (Societies Registration Act 1860, No. MS 70/92; Dated: 6 Aug 1992).

FCRA No.

FCRA Registration No: 083850018; Dated: 7 January 1998

Bank Account No.

11375497015

Bank Name

State Bank of India

Bank Branch

Pedali Branch, Raigad District

Bank Address

State Bank of India, Pedali Branch, At Pedali, Post Tivre, Taluka Sudhagad, District Raigad, Pin Code 410 205, Maharashtra, India

Swift Code

S B I N I N B B 5 1 6

(State Bank of India, Dr. D. N. Road Branch, Fort, Mumbai)

Instructions for transfer of funds

The Bank where SOBTI has its FCRA Account is a "Rural Branch". Hence funds transferred from other countries cannot come in directly into the SOBTI Bank Account. Funds have to be routed through the Foreign Exchange Department of State Bank of India.

Please instruct your bank to "transfer money to State Bank of India, Dr. D. N. Road Branch, Fort, Mumbai  (Swift Code: SBININBB516) for further credit to SOBTI, A/c No. 11375497015, State Bank of India, Pedali Branch, Pedali, Post Tivre, Taluka Sudhagad, District Raigad, Pin Code 410 205, Maharashtra, India".

PAN No.

AAMTS1148K; Dated: 12-3-1993
Budget
Tentative estimate of expenses required for setting up a nursery of native plant species.
| | | | | | |
| --- | --- | --- | --- | --- | --- |
| No. | Particulars | Basis |  Amount | Source |  Requested Budget |
| 1 | Digging and construction of a well | 20 ft depth,15 ft width |  3,00,000 | Own contribution |               -   |
| 2 | Wire mesh cover for the well | 15 ft circumference: Rs. 30,000 lump sum |     30,000 | Own contribution |               -   |
| 3 | Land development | Rs. 30,000 lump sum |     30,000 | Own contribution |               -   |
| 4 | Motor pump with accessories | Rs. 20,000 lump sum. |     20,000 | Own contribution |               -   |
| 5 | Pipeline and watering arrangements | Rs.15,000 lump sum |     15,000 | |        15,000 |
| 6 | Low cost storage cum work shed | 400 sq. ft.; Rs. 80,000 lump sum |     80,000 | |        80,000 |
| 7 | Low-cost nursery sheds (2) | Rs. 60,000 lump sum |     60,000 | |        60,000 |
| 8 | Fencing of nursery area (barbed wire + live fence with thorny plants) | Rs. 40,000 lump sum |     40,000 | |        40,000 |
| 9 | Tools & equipment for nursery | Rs. 20,000 lump sum |     20,000 | |        20,000 |
| 10 | Mud for nursery bags | Rs. 15,000 lump sum |     15,000 | |        15,000 |
| 11 | Compost and farm yard manure for nursery bags | Rs. 10,000 lump sum |     10,000 | |        10,000 |
| 12 | Plastic bags for saplings | 200 Kg @ Rs. 150 per Kg |     30,000 | |        30,000 |
| 13 | Seed collection, seed purchase | Rs. 30,000 lump sum |     30,000 | |        30,000 |
| 14 | Salary of Supervisor for nursery | 1 person; Rs. 10,000 pm |   120,000 | |        120,000 |
| 15 | Payment to women SHG for growing of saplings | 10,000 saplings @ Rs. 10 per sapling |  1,00,000 | |     1,00,000 |
| 16 | Administrative expenses (stationery, travel, phone, food, etc). | Lump sum Rs.5,000 per month |     60,000 | |        60,000 |
| | Total | | 960,000 | |    580,000 |
Annexure I
Tentative list of native plant species to be raised in the nursery
| | | | | | |
| --- | --- | --- | --- | --- | --- |
| No. | Local Name | Botanical Name | No. | Local Name | Botanical Name |
| 1 | Agnimanth | Clerodendrum phlomides | 72 | Koshimb | Spondias pinnata |
| 2 | Aien | Terminalia crenulata | 73 | Kuda | Holarrhena antidysenterica |
| 3 | Aleev | Lepidium sativum | 74 | Kumbha | Leucas cephalotes |
| 4 | Amba | Mangifera indica | 75 | Kumkum | Mallotus philippenensis |
| 5 | Amti phatakari | Maesa indica | 76 | Lal chapha | Plumaria rubra |
| 6 | Asana | Bridelia retusa | 77 | Kusum | Schleichera oleosa |
| 7 | Ashok | Saraca asoca | 78 | Maharukh | Alianthus excelsa |
| 8 | Atrun | Flacourtia indica | 79 | Majori nimbara | Melia composita |
| 9 | Avala | Phyllanthus emblica | 80 | Makad limbu | Atalantia racemosa |
| 10 | Babul | Acacia nilotica | 81 | Medhshing | Dolichandrone falcata |
| 11 | Bael | Aegle marmelos | 82 | Moha | Maduca indica |
| 12 | Bahava | Cassia fistula | 83 | Mokha | Schrebera swietenioides |
| 13 | Bakul | Mimusops elengi | 84 | Murudsheng | Helicteres isora |
| 14 | Bambu (Kalak) | Bambusa bamboss | 85 | Nagkeshar | Mesua ferrea |
| 15 | Bambu (Manya) | Dendrocalamus strictus | 86 | Nana | Lagerstroemia sp. |
| 16 | Bambu (Pivala) | Bambusa vulgaris | 87 | Nandrukh | Ficus microcarpa |
| 17 | Beeti | Thevetia peruviana | 88 | Neem | Azadirachta indica |
| 18 | Behada, Velha | Terminalia bellirica | 89 | Nimbara | Melia azedarach |
| 19 | Bhendi | Thespesia populnea | 90 | Nirgudi | Vitex negundo |
| 20 | Bhokar | Cordia dichotoma | 91 | Nishotar | Operculina turpethum |
| 21 | Bibba | Semecarpus anacardium | 92 | Pachava | Bauhinia malabarica |
| 22 | Bibla | Pterocarpus marsupium | 93 | Padal | Stereospermum colais |
| 23 | Bondara | Lagerstroemia parviflora | 94 | Palash | Butea monosperma |
| 24 | Bor | Ziziphus nummularia | 95 | Palasvel | Butea parviflora |
| 25 | Chambhel | Bauhinia foveolata | 96 | Pandhari | Murraya paniculata |
| 26 | Chanda | Macaranga peltata | 97 | Pangara - 1 | Erythrina stricta |
| 27 | Chera | Erinocarpus nimmonii | 98 | Pangara - 2 | Erythrina indica |
| 28 | Chikku | Achras sapota | 99 | Parijat | Nyctanthes arbor-tristis |
| 29 | Chillari | Acacia pennata | 100 | Peru | Psidium guajava |
| 30 | Chinch | Tamarindus indica | 101 | Pethari | Trewia nudiflora |
| 31 | Dalchini | Cinnamomum zeylanicum | 102 | Phanas | Artocarpus heterophyllus |
| 32 | Dhaman | Grewia tilaefolia | 103 | Phanshi | Dalbergia paniculata |
| 33 | Dharaphal | Averrhoe carambola | 104 | Pimpal | Ficus religiosa |
| 34 | Dikemali-1 | Gardenia gummifera | 105 | Pingi | Celastrus paniculatus |
| 35 | Dikemali-2 | Gardenia resinifera | 106 | Pivali Savar | Cochlospermum gossypium |
| 36 | Dudh kuda | Wrightia tomentosa | 107 | Putranjeeva | Putranjiva roxburghii |
| 37 | Garambi | Entada rheedei | 108 | Ragat Rohda | Diospyros nigrescens |
| 38 | Ghatipittapapada | Rungia parviflora | 109 | Rala / Dhup | Canarium strictum |
| 39 | Ghol | Trema orientalis | 110 | Rametha | Lasiosiphon eriocephalus |
| 40 | Ghotbor | Ziziphus xylopyrus | 111 | Ramphal | Annona reticulata |
| 41 | Hedu | Adina cordifolia | 112 | Ratakuda | Rauwolfia serpentina |
| 42 | Hirda | Terminalia chebula | 113 | Ratan Gunj | Adenanthera pavoraina |
| 43 | Humb | Miliusa tomentosa | 114 | Ravan | Premna latifolia |
| 44 | Jambhul | Syzygium cumini | 115 | Ritha | Sapindus laurifolia |
| 45 | Kaju | Anacardium occidentale | 116 | Safed Jambh | Eugenia alba |
| 46 | Kakad | Garuga pinnata | 117 | Safed Toran | Ziziphus rugosa |
| 47 | Kakhmanjari | Morinda coreia | 118 | Sag | Tectona grandis |
| 48 | Kadamb | Anthocephalus cadamba | 119 | Sagargota | Caesalpinia bonduc |
| 49 | Kalamb | Mitragyna parvifolia | 120 | Satvin | Alstonia scholaris |
| 50 | Kali Kudai | Wrightia tinctoria | 121 | Savar | Bombax insigne |
| 51 | Kanchan (Lal) | Bauhinia purpurea | 122 | Seetaphal | Annona squamosa |
| 52 | Kanchan (Safed) | Bauhinia tomentosa | 123 | Shendri | Bixa orellana |
| 53 | Kapila-2 | Mallotus stenanthus | 124 | Shevga - 1 | Moringa oleifera |
| 54 | Karanj | Pongamia pinnata | 125 | Shevga - 2 | Moringa concanensis |
| 55 | Karap | Olea dioica | 126 | Shirish | Albizia amara |
| 56 | Karmel | Dillenia indica | 127 | Shisav - 1 | Dalbergia latifolia |
| 57 | Karvand | Carissa carandas | 128 | Shisav - 2 | Dalbergia sissoo |
| 58 | Karvi | Carvia callosa | 129 | Shivan | Gmelina arborea |
| 59 | Karvi-2 | Strobilanthes barbetus | 130 | Tad | Borassus flabellifer |
| 60 | Kateri bor | Ziziphus oenoplia | 131 | Tamalpatra | Cinnamomum tamala |
| 61 | Kaundhol | Sterculia urens | 132 | Tembhurni | Diospyros melanoxylon |
| 62 | Kavli | Hemidesmus indicus | 133 | Tetu | Oroxylum indicum |
| 63 | Keli (Ran) (1) | Musa superba | 134 | Udhala | Sterculia villosa |
| 64 | Keli (Ran) (2) | Musa rosacea | 135 | Umbar | Ficus recemosa |
| 65 | Khair | Acacia catechu | 136 | Vad | Ficus bengalensis |
| 66 | Kharbati (1) | Ficus hispida | 137 | Vangoti | Capparis spinosa |
| 67 | Kharbati (2) | Ficus exasperata | 138 | Varas | Heterophragma quadriloculare |
| 68 | Kharsing | Radermachera xylocarpa | 139 | Vatoli | Diploclisia glaucescens |
| 69 | Kinhai | Albizia procera | 140 | Vavla | Holoptelea integrifolia |
| 70 | Kokeri | Sterculia guttata | 141 | Vayvarna | Crataeva nurvala |
| 71 | Kokum | Garcinia indica | 142 | Vilayati Chinch | Pithecellobium dulce |